Urban + Upscale
Discover Spectrum Miami—a juried, contemporary art show in the heart of Miami's Arts & Entertainment District, December 6–10, 2017, featuring an international slate of artists and galleries. It's where contemporary meets extraordinary. Join for a five-day fine art experience, featuring Art Labs, Art Talks, Meet the Artist sessions, music, entertainment, and other special events.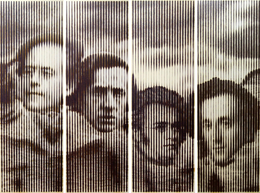 Sense the day - by Eva M. Paar
Oil on canvas 200cm x 150cm
( 4 pcs. 50cm x 150cm )
.

Exhibitions

December 6 - December 10, 2017

Spectrum Miami (US),
Exhibited by Mecenavie (FR)

Spectrum Miami Tent - 1700 NE 2nd Avenue - Miami, FL 33132

Vernissage: December 6, 18:00 - 22:00

September 24 - October 15, 2017

7th Beijing International Art Biennale (CN)

Exhibition catalog

Artwork

Pain - 2017

Series "Continents"
Oil on canvas 40cm x 50cm


Voyager - 2016

Series "Continents"
Oil on canvas 120cm x 100cm

Art Critics

December 2017

Interview on Singulart by Muriel Resnik

July 2016

Art Award "MINERVA - la dea di tutte le arti" by Accademia Italia in Arte Nel Mondo

April 2015

Critical essay of Dott. Salvatore Russo (IT)

Showroom 3D

Paintings "Queens 1 - Queens 5" shown in a virtual living room